Meet Rembrandt: an artistic energy source without an off-switch.
Curiosity fuels his musical sense of freedom, leading to unusual sound worlds and alternative ways of music-making.
Pianist – composer
Rembrandt's natural playing ground is all about creating on the spot. Both as a composer and a pianist, he takes a liberal approach to Jazz and classical music by introducing foreign influences.
For collaborations with superstars of Middle Eastern music, Rembrandt has completely reinvented his own sound world.
Western classical musicians and ensembles in search for progression embrace his new compositions, as well as the challenge of improvising.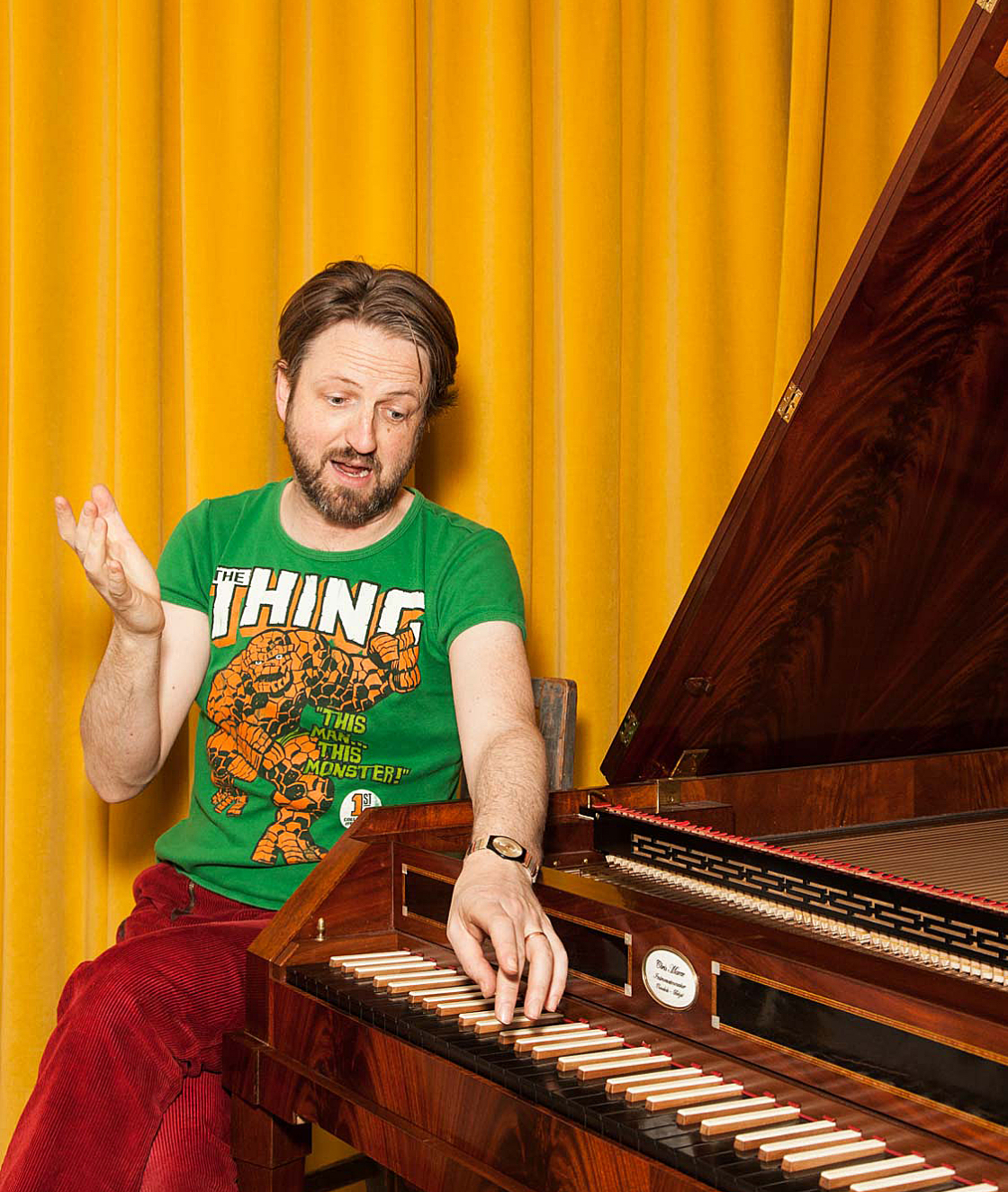 Artistic initiator
As artistic initiator and curator for festivals, Rembrandt's freethinking approach and a nose for potential makes for previously unknown connections and collaborations.
Constantly pushing himself and fellow musicians to new strengths in their process, these ingredients in the end serve a most creative dish – or indeed an entire banquet.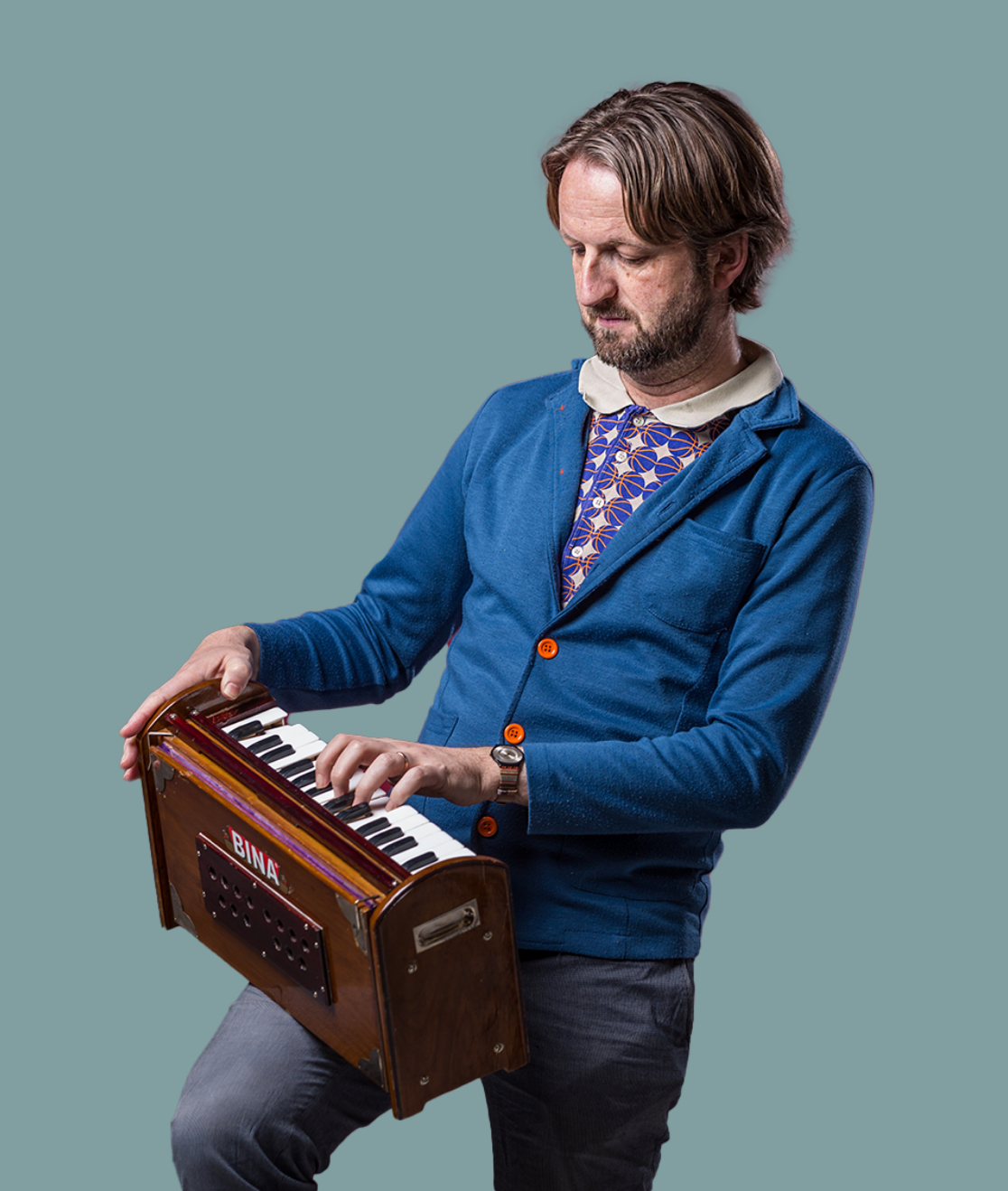 Timeline
Researching musical traditions and sound worlds

1995–1997, Cairo, Egypt

Debut at North Sea Jazz Festival

2001, The Hague

European Jazz Youth Orchestra & Hermeto Pascoal

2002. Touring Brazil and Europe

Scholarship Excelling Young Musicians

2003, New York, USA

Working with saxophonist Michael Brecker

2003, Netherlands

Nominated for Edison Award

2006. Debut album 'Self Portrait'

Presents new album in jazzclub Birdland

2013, New York, USA

Fortepiano built for Rembrandt by Chris Maene

2014. Courtesy of Dutch Musical Instruments Foundation

Opening act Taichung Jazz Festival, Taiwan for an audience of 50,000

2017, Taiwan

Playing double bill concert with Chick Corea

2018, at Ronnie Scott's, London (UK)

Debut at Royal Festival Hall, London

2019, London UK

Cello double concerto for Kian Soltani (cello), Kayhan Kalhor & Amsterdam Sinfonietta

2020. Commissioned by Cello Biënnale Amsterdam

Premiere Piano Concerto Nr. 1 & 2

2021. Commisioned by musicians of the Royal Concertgebouw Orchestra

Start of ensemble "De Staalmeesters"

2022. New work commissioned and project organized by Gaudeamus

Premiere Piano Concerto Nr. 3

2023 Commisioned by the Residentie Orkest.
Videos
Rembrandt Frerichs – 'Spring Bells'
The Rembrandt Frerichs Trio live at the BIMhuis Amsterdam, 2015. The original composition is also featured on the trio's album 'A Long Story Short'.
Promotional video. Pianoconcerto Rembrandt Frerichs, Alma Quartet, Dominic Seldis, Vinsent Planjer
Kayhan Kalhor & Rembrandt Trio
Kayhan Kalhor & Rembrandt Trio
Fresu & Frerichs perform 'I fall in love too easily'
Paolo Fresu, trumpet & Rembrandt Frerichs, piano. 'I fall in love too easily' composed by Jule Styne with lyrics by Sammy Cahn. Live at the BIMhuis, Amsterdam in 2015
Jazzahead Official Showcase
Jazzahead Official Showcase
Concerts
Rembrandt & de Staalmeesters. Pianoconcert
Kaç Jazz Festival Antalya, TURKEY
Bremen Musiktagen GERMANY
Kayhan Kalhor & Rembrandt Trio
Rembrandt & De Staalmeesters "Off The Carrousel"
Festspielen Mecklenburg Vorpommern, Germany
Schwerin, Germany
Rembrandt Trio's 'The Contemporary Fortepiano'
News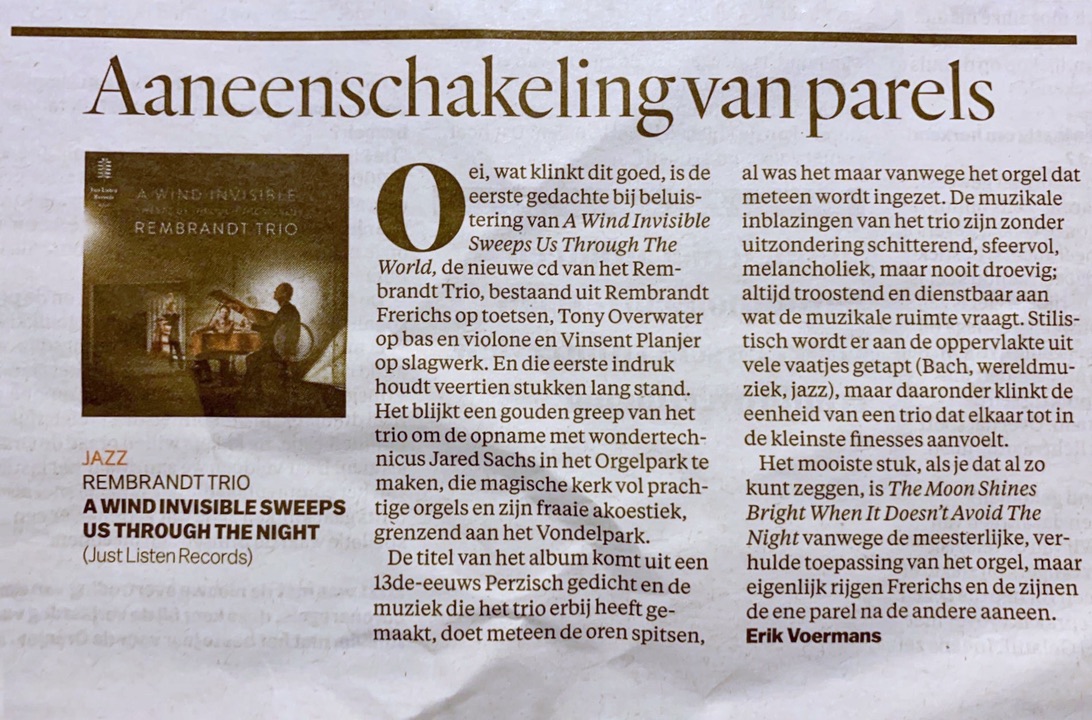 Parool review
04 January 2022
2022 starts in a good mood with this new review in Dutch national newspaper Het Parool. Thanks Erik Voermans for listening in detail!
– "Rembrandt Trio strings together one pearl after another"
– "sounds the unity of a trio that sense each other down to the smallest details. "
– "The musical inspirations are without exception beautiful, atmospheric, melancholic, but never sad: always comforting and subservient to what the musical space demands"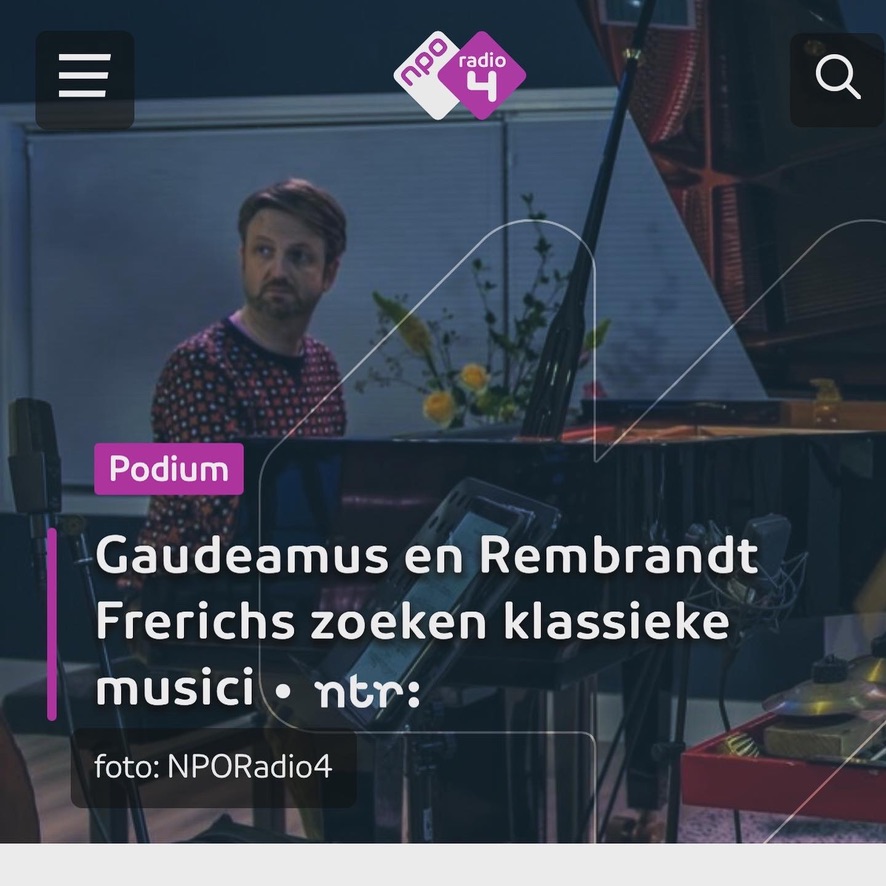 Gaudeamus project, Rembrandt composer
26 December 2021